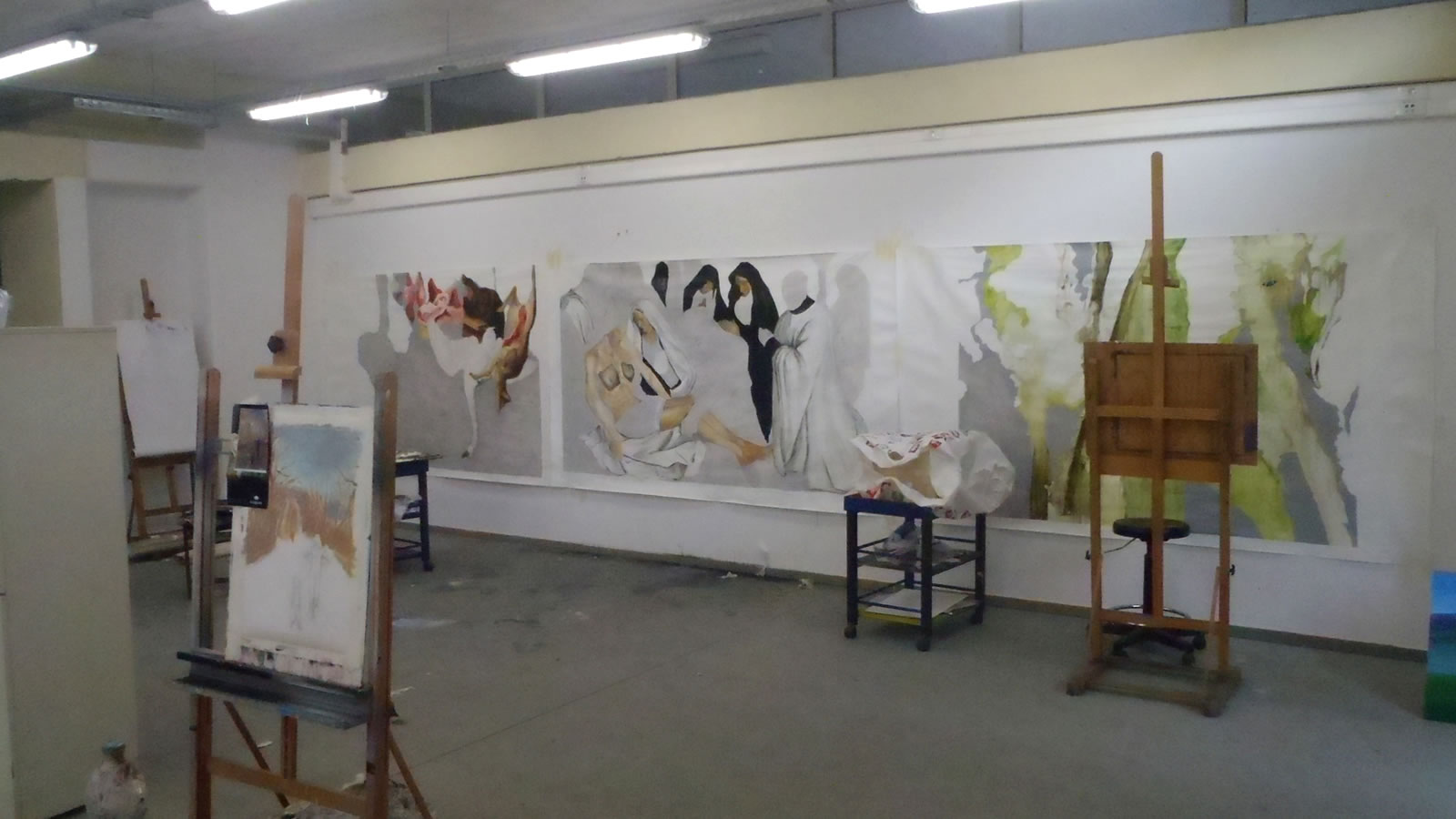 Painting Studio (Government Gazette 255 / 10-2-2016, v.B' )
The painting studio serves educational and research needs in the subject of painting at undergraduate and postgraduate level of the Fine Arts Department. It explores and forms positions and perceptions regarding the concept and practice of art, and seeks to contribute to research into the formation of the expanded visual practice and to promote the dialogue between traditional forms of art and contemporary visual arts, through the broadness and variety of expressive media (painting, installations, modern audiovisual media, multimedia applications, etc.).
At the painting studio are developed special thematic and research activities, compulsory courses and a number of selective courses of the Department's curriculum, as well as the dissertation projects of the students.
Painting Studio serves also for the organization of scientific lectures, workshops, seminars, symposiums, conferences and other artistic and scientific events, artwork, publications and publications and the invitation of Greek and foreign recognized art and theoreticians.
The painting studios (325sq.m and 600 sq.m) are fully equipped with easels, composition settings for drawing and painting, digital equipment (computers, projectors, cameras, etc), WiFi, and tutors' offices.
Academic Staff
Painting Studio Academic Staff
News - Announcements
Painting Studio News - Announcements
Studio Supervisor:
Gokas Vangelis, Professor
 
Contact Info:
Secretariat-Department of Fine Arts and Art Sciences , Transitional Administration Building, 1st floor, P.C. 45110 Ioannina GR
Building:Faculty of Philosophy, Department of History and Archaeology, Room: 3rd floor, Telephone: +30-26510-05643, E-mail: Vangelis.gokas@gmail.com