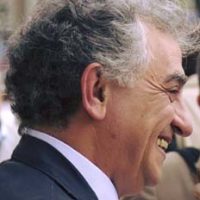 Skalkotοs Ηristos
Sculpture
Hristos Skalkotos – sculptor
After his studies at the Fine Arts School of Athens, he pursued at the Academy of Fine Arts of Venice where he obtained a Bachelor  degree in Sculpture, Stone & Marble Conservation and History of Arts. He then continued studying History of Art and History of Philosophy at the University of Venice (Cà Foscari). Ηe stayed for more than 25 years in Italy where he participated in numerous exhibitions and obtained prizes.
Since 1980 he deals mainly with installations in situ with materials such as neon, marble, metal, ceramics, video and slides.
Convex and hollow, empty and full, rough and smooth, jewell (small)  and architectural (huge), together with the  stylistic ideal of functionalism are for H. Skalkotos  all elements with an intellectual dimension and also a non-matter stochastic version of the material world which take roots in the works passed on to us by the fathers of the three dimensional representation: Brancusi, Arp, Giacometti, Moore, Noguchi, Bruno Munari.
The organization of the organic relationship of each element of the composition with the whole is a result of the acceptance of random as a tool for the «destructuration-structuration» of the numeric applications' pre-choice in the digital tool box, which brings forward constantly the relationship between the creator and the creation on a reasonably acceptable level (field).
Τhe « momentum » creative event taking shape into space-time, is the emerging of the composition in space, the organic object-form, as a good conductor of the vital energy ; it is the unshakable conviction of the creator –plastician  through the creative strength living on in the « object-sculptural form » as the living soul.
He teaches at the University of Ioannina, at the Department of Fine Arts and Arts Sciences of the School of Fine Arts, he lives in Ioannina and Athens.
e-mail: hskalkotos@gmail.com, hskalkotos@cc.uoi.gr
Subject matters taught:
Compulsive:
Sculpture Studio I, II, III, IV
Subject oriented sculpture studio I, II
Optional:
Sculpture on Marble Studio I, II
Personal website: https://myweb.uoi.gr/hskalkotos/scultura/INDEX.htm
Position:
Assistant Professor
Scientific Area:
Sculpture
Postal Address:
Sculpture Studio
Ground floor
A' Residences Building
Department of Fine Arts and Art Sciences
University of Ioannina
P.C. 45110 Ioannina GR
Office:
Sculpture Studio, A' Residences Building
Telephone:
(+30) 26510-05369
Fax:
E-mail:
hskalkotos@gmail.com, hskalkotos@uoi.gr
Office hours:
Wednesday 12:00 – 15:00
Webpage:
https://myweb.uoi.gr/hskalkotos/scultura/INDEX.htm
Detailed Curriculum Vitae:
 SkalkotosCV.pdf
Social Networks: