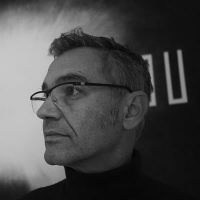 Kostas Bassanos
Fine Art- Sculpture
Kostas Bassanos was born in Greece. He studied Sculpture at Accademia Clementina in Bologna (Italy) and MA Sculpture at Winchester School of Art (GB). He holds a PhD from University of Southampton (GB) and he teaches Sculpture at The School of Fine Arts of the University of Ioannina (GR). He lives and works in Athens.
Kostas Bassanos artistic practice explore the various narratives that inform our experience of space within a conceptual and poetic framework that language suggests. In his text-based work, mainly related to concepts such as territory, landscape and habitat he revises words and materials by marking their sculptural qualities and their spatial context whitin a socio-political perspective, underpinned by a shift from content-specific to site-specific.
His work has been shown extensively in Greece and abroad in solo and group shows.
Personal Webpage: http://www.bassanos.gr
Position:
Associate Professor
Scientific Area:
Fine Art- Sculpture
Postal Address:
Sculpture Studio
Ground floor
A' Residences Building
Department of Fine Arts and Art Sciences
University of Ioannina
P.C. 45110 Ioannina GR
Office:
Sculpture Studio, A' Residences Building
Telephone:
(+30) 26510-05640
E-mail:
bassanos@uoi.gr
Office hours:
Wednesday 09.00-11.00
Webpage:
http://www.bassanos.gr
Social Networks:
– Facebook: Sculpture.Studio.PTET
Curriculum Vitae:
Κ Bassanos_CV_en